The Solar for low income households offer (also known as Rebate swap for solar) is expanding across NSW. Find out how you can get involved below.
Are you interested in solar energy? You may be eligible for a free 3 kilowatt solar system installed on your home. Check your eligibility below. 
This offer helps eligible households access affordable clean energy by providing them with free solar systems. A solar system can help you unlock long term savings on your household electricity bills by up to $600 a year.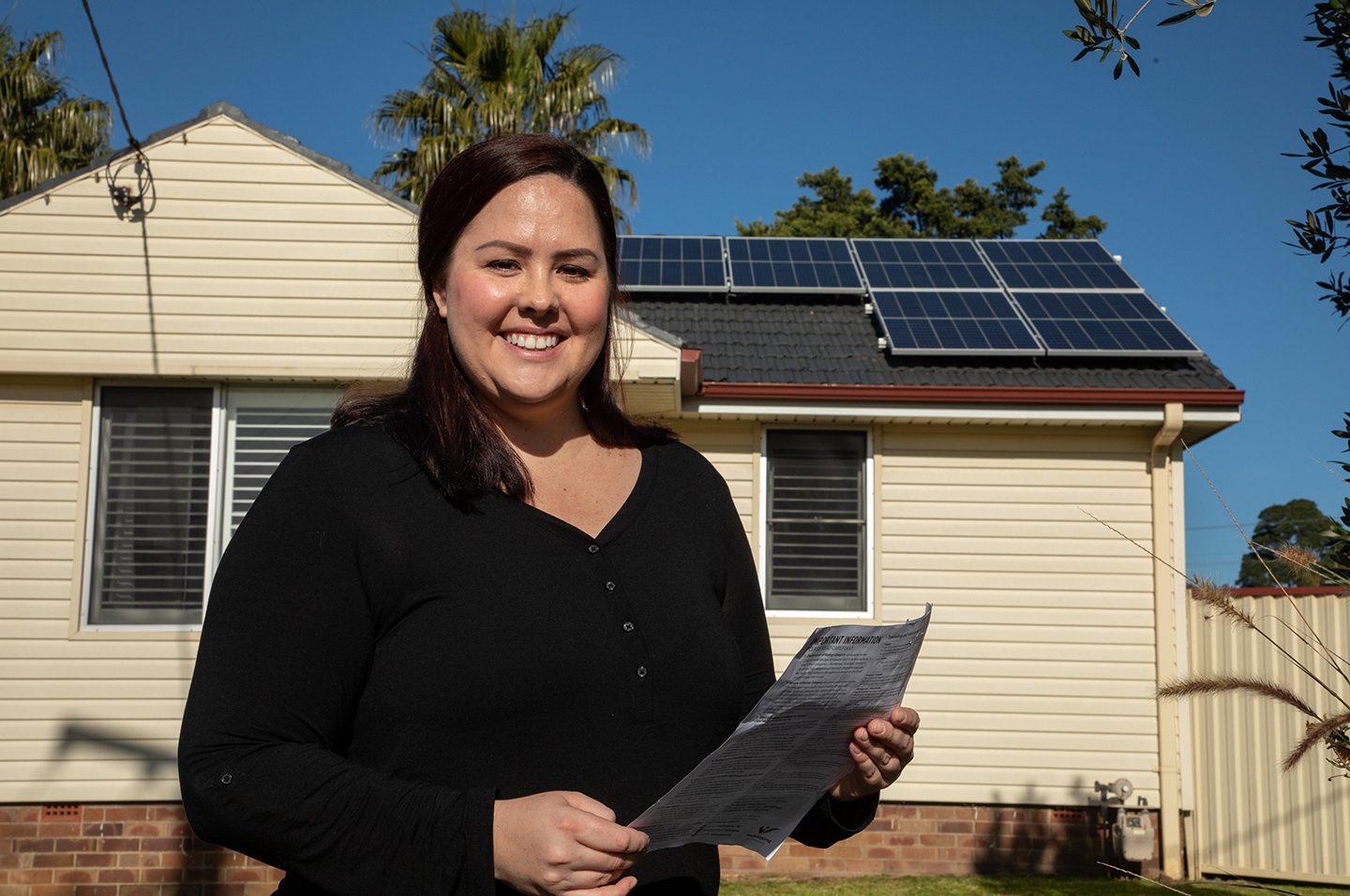 "I wouldn't be able to afford solar panels by myself outside of the offer, and for people in my situation who have bought a home but don't have a big chunk of money to spend on solar – it's just great," Kerina, solar for low income households participant.
The offer
This offer helps homeowners on low incomes reduce their electricity bills by installing 3 kilowatt solar systems on their homes.
Solar is a great way to reduce your environmental footprint and you can save up to $600 a year on your household electricity bills. That's up to twice as much as the Low Income Household Rebate of $285 a year.
Check your eligibility
This offer is currently available for low income households in NSW. To be eligible, you must:
currently receive the Low Income Household Rebate
agree not to receive the rebate for ten years
hold a valid Pensioner Concession Card or Department of Veterans' Affairs Gold Card
own your house
not already have a solar PV system
If you are not the registered homeowner but your spouse is, your household may be eligible.
Before applying
To help you decide if installing solar is the right choice for you:
How to apply
Click on the Check your eligibility and apply here button below. We recommend you use Google Chrome as your preferred browser
Complete the Eligibility check
Submit your application.
To complete your application, you will need to upload the following:
a Council rates notice or similar evidence to confirm that you own your home. If you don't have a Council rates notice, please contact us by filling out the form below to discuss other forms of evidence
a recent electricity bill to confirm that you are receiving the Low Income Household Rebate
an image of your Pensioner Concession Card or Department of Veterans' Affairs Gold Card to confirm it is valid and up to date.
If you need assistance to complete and submit your application form, call Service NSW on 13 77 88 or visit your nearest Service NSW centre.
Next steps
Once you have submitted your application and your eligibility is approved:
We will notify you by email and send your details to the approved solar installer in your area.
The installer contacts you to arrange a house suitability assessment.
The installer organises your contract and installation of your free solar system.
Your solar system is set up and you're moved off the Low Income Household Rebate. The installer provides you with training on how to use your system so you can benefit from using solar energy.
Approved installers information
The current list of approved installers for the offer are:
North Coast
SAE Group
6638 9439
Central Coast
Origin Energy
1300 791 468
Illawarra – Shoalhaven
Origin Energy
1300 791 468
South Coast
SolarHub
4488 4220
Greater Sydney LGAs:

Blacktown City Council
City of Parramatta Council
Cumberland Council
Fairfield City Council
Penrith City Council

SAE Group
6638 9439
Greater Sydney LGAs:

Bayside Council
Burwood Council
Campbelltown City Council
Canterbury-Bankstown Council
Georges River Council
Liverpool City Council
Strathfield Municipal Council
Sutherland Shire Council

Origin Energy
1300 791 468
These installers are responsible for supplying and installing the solar systems.
No other companies are authorised to carry out installations under the offer.
Please note, if your region isn't listed above, it is because approved installers are still being finalised. You can still apply, and we'll notify you when we have finalised approved installers for your region. 
Case studies
Read more about how solar savings took the sting out of a difficult year for Dave and Isobel.
Read about how Catherine couldn't believe her good fortune after qualifying for a free solar system.
Watch a video about why Bob took up the offer of a free solar system to access renewable energy and save on power bills.
Other ways to save on your electricity and gas bills
To help you more easily compare energy deals, visit Energy Made Easy. This is a free service to help you find the best available plans for your household based on your energy usage.
Get in touch
If you have questions, fill out your details below.
Thanks for contacting us.