What is the Electricity Infrastructure Roadmap?
In November 2020, the NSW Government released the NSW Electricity Infrastructure Roadmap (the Roadmap). The Roadmap is the State's 20 year plan to transform our electricity system into one that is cheap, clean and reliable. It will lay the foundations for future generations to enjoy more secure, reliable and affordable electricity. The Roadmap is enabled by the Electricity Infrastructure Investment Act 2020 (EII Act). 
A range of entities and stakeholders are working together to deliver the Roadmap. This will help to coordinate investment in transmission, generation, storage and firming infrastructure as our ageing coal-fired power plants are retired from 2023.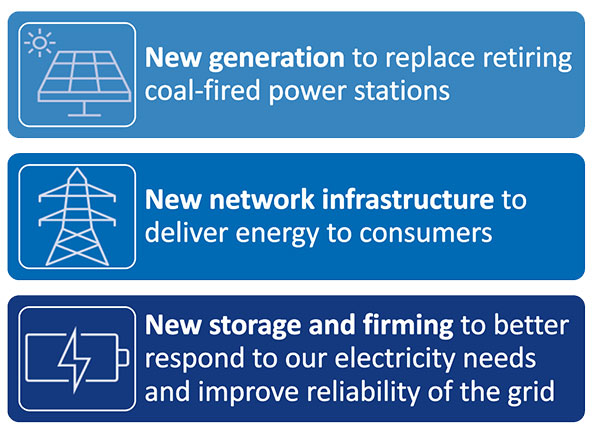 The Roadmap will support the private sector to deliver at least: 
12 gigawatts of new renewable electricity generation
2 gigawatts of long-duration storage, such as pumped hydro
The Roadmap will give industry and investors the certainty they need to invest in the infrastructure we need, with more than $32 billion of private sector investment to be injected into the NSW economy by 2030.
Delivery of the Roadmap is already well-advanced with the announcement of the Waratah Super Battery in late 2022, and the inaugural tender round for new generation and long duration storage Long Term Energy Service Agreements (LTESAs) beginning in 2022. Tenders for firming infrastructure, generation and long duration storage are  scheduled to commence in the second quarter of 2023.
The Roadmap is designed to maximise the long-term financial interests of NSW electricity consumers. It has strong governance in place to achieve this. Each entity has a distinct role in the coordination, monitoring and oversight of the Roadmap's implementation.  
Partners delivering the Roadmap
The Electricity Infrastructure Roadmap is being delivered by several key entities appointed by the NSW Government.