What is bioenergy?
Bioenergy comes from organic matter called biomass. Biomass sources include crops, forests, grasses and waste. If burnt, biomass releases carbon dioxide (CO₂) which can be reabsorbed through photosynthesis during the regrowth of biomass crops.
Bioenergy uses
Bioenergy can generate electricity and heat, as well as produce liquid fuels for transport. Producing electricity and heat at the same time is called cogeneration and is common in bioelectricity production.
Chemical processing can turn biomass into ethanol and biodiesel which can be used for transport or electricity. Anaerobic digestion of biomass (that is, microorganisms breaking down materials) creates biogas, essentially CO₂ and methane. This can also be used to make electricity or combusted for heating.
NSW bioenergy resources
There are many bioenergy resources in agricultural and forestry areas across the state. NSW also has a large urban population that generates significant urban waste resources, landfill and sewage gas.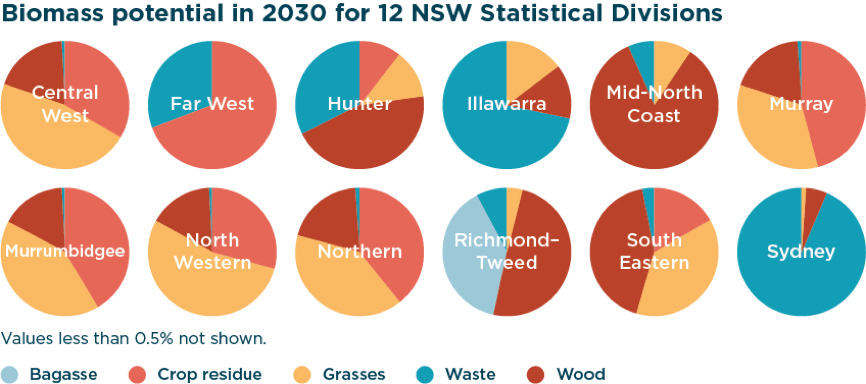 NSW bioenergy uses
In 2017, bioenergy power generators produced around 1.5% of the total electricity generated in NSW (including the ACT). The majority of the state's bioenergy comes from bagasse (the dry pulpy residue left after the extraction of juice from sugar cane), which is why three sugar mills have installed cogeneration plants. Sugar mills use bagasse-produced electricity and low-pressure waste steam for sugar milling and refining processes. Three of our biggest are:
Broadwater Bioenergy Plant – capacity 38 megawatts (MW)
Condong Bioenergy Plant – capacity 30 MW
Harwood sugar mill – capacity 4.5 MW
Other electricity producing bioenergy facilities include:
Tumut Visy Paper Bioenergy Facility (32 MW capacity) uses black liquor, a residual waste from paper manufacturing, to power the paper mill and returns excess electricity to the grid.
The three Lucas Heights bioenergy power stations (21.5 MW combined capacity) use landfill methane gas.
Eight of Sydney Water's wastewater treatment and recycling plants have cogeneration facilities to convert methane from sewage treatment plants into electricity (9.9 MW combined capacity).
EarthPower Technologies was Australia's first facility to use anaerobic digestion to convert food waste into biogas (3.9 MW capacity).
Biofuel production facilities in NSW include:
A 20 million litre capacity plant in Rutherford, which produces biodiesel from used cooking oil and vegetable oils.
The Manildra Ethanol Plant in Nowra, which makes ethanol from starch. The plant has a capacity of 300 million litres, which is enough energy for about 100,000 cars for a year.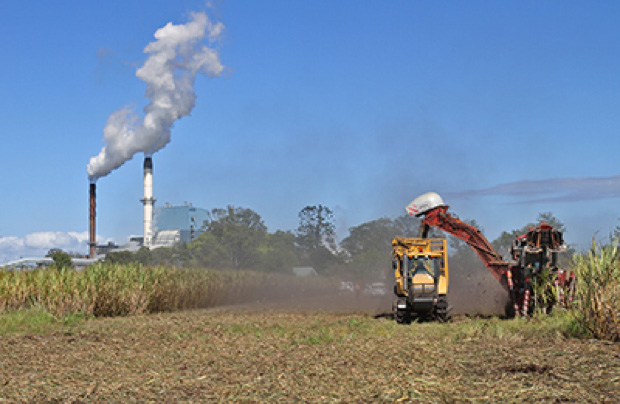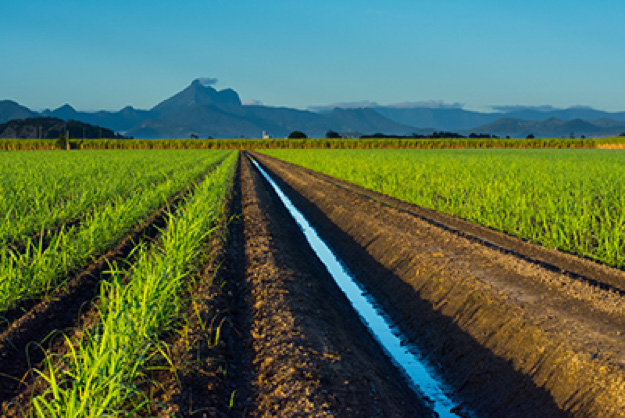 NSW bioenergy future
Electricity generation from biomass, particularly agricultural waste, landfill and sewage gases, is well established. However, there is great potential to increase production during peak demand. Biofuels will play a major role in improving fuel security and reducing environmental impacts.
Funded by the Australian Renewable Energy Agency and the NSW Government, ABBA is a national project which maps biomass resources for bioenergy. ABBA will stimulate investment in the renewable energy sector by assisting decision-making for new bioenergy projects and publicising the biomass supply chain, right down to the end-user. The project can be used by investors, biomass producers, electricity users and providers, projects developers, policy makers and the public.
NSW supports bioenergy in the Hunter Valley
Ethanol Technologies Limited (Ethtec) received co-funding from the Australian Renewable Energy Agency and the NSW Government to demonstrate and develop its ground-breaking advanced biofuel technology. The pilot demonstration plant will produce ethanol from a range of non-food and waste plant matter left over from crop harvesting and forestry.