Applications for the Pumped Hydro Recoverable Grants Program are now closed. Due diligence and Funding Agreement negotiations with shortlisted Applicants are currently underway.
About the program
The $50 million Pumped Hydro Recoverable Grants Program (the Program) is a key action in the NSW Government's Electricity Infrastructure Roadmap (the Roadmap). The Program will provide recoverable grants to project developers to assist with the cost of early stage, detailed feasibility studies for pumped hydro projects.
Pumped hydro is recognised as the most established form of long duration storage. However, pumped hydro projects face long lead times with costly development activities taking up to four years to complete, with procurement and construction typically taking another four years.
The Program aims to establish a pipeline of up to 3 gigawatts of 'shovel ready' pumped hydro projects that can make competitive bids for long-term energy service agreements (LTESAs) for long duration storage under the Electricity Infrastructure Investment Safeguard. As part of the Electricity Infrastructure Safeguard, the Consumer Trustee may run the competitive process to for LTESAs on behalf of consumers.
Indicative parameters of the Program include:
Program budget
$50 million
Program target capacity
Up to 3 gigawatts (total supported)
Minimum project capacity
30 megawatts
Minimum project storage duration
8 hours (with preference for >12 hours)
Support type
Recoverable grant for pre-investment activities
Recipient contribution
Greater or equal to grant funding
Allocation process
One-stage application and award process
Competitive funding round(s)
Required project operational start date
By 31 December 2029
Grant repayment
Grants will be recovered when the project reaches Financial Close
Project location
Within the NSW region of the National Electricity Market
Application process
The Program's application and assessment process is competitive, and submissions will be assessed against the eligibility and merit criteria, which are further defined in the Guidelines. This flow chart represents a high-level overview of the application, assessment and grant awarding process. The current stage of the application and assessment process is indicated in green.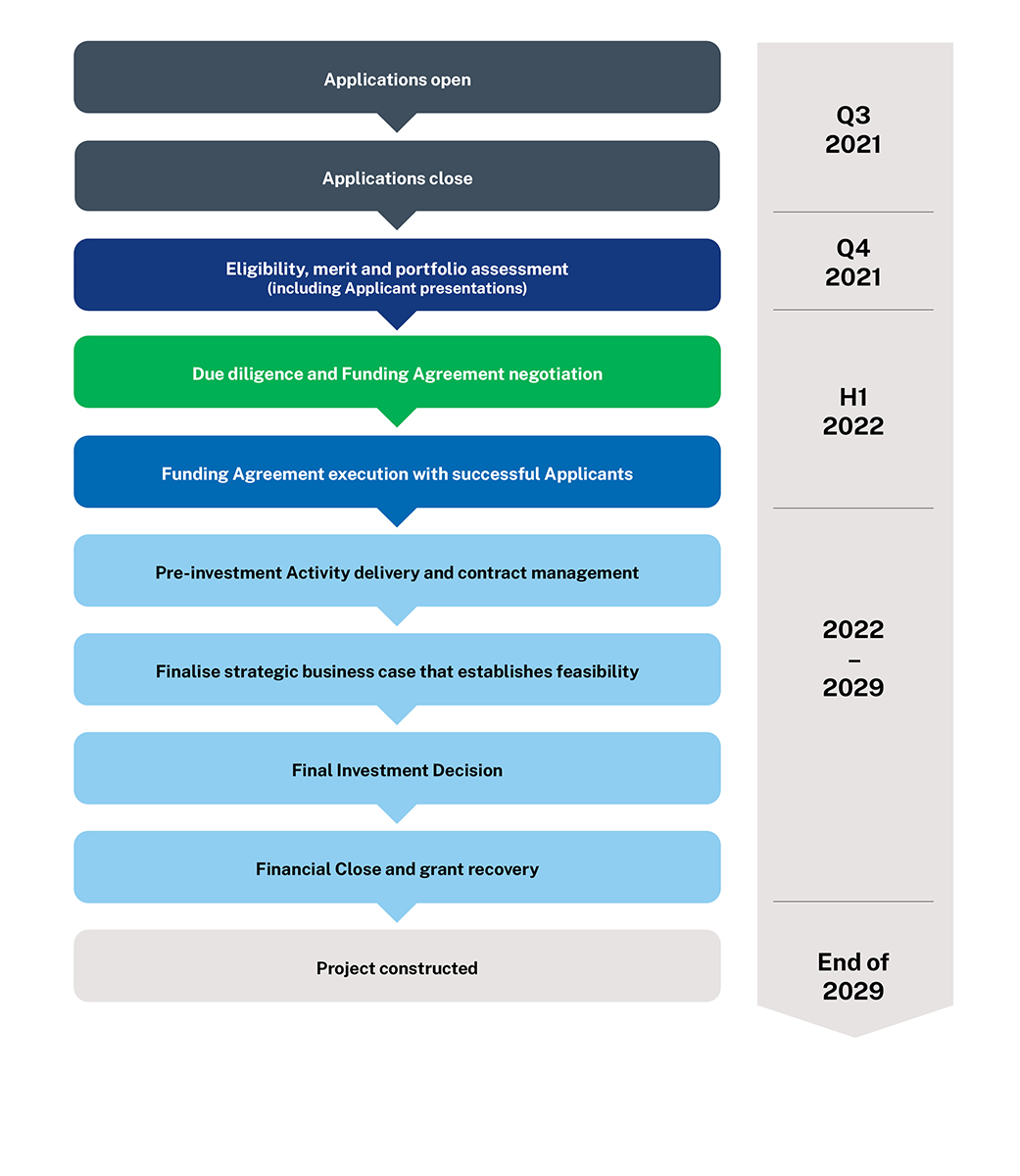 Further information
To receive further updates or to submit a question about the Program, please email: [email protected].