---
Kerbside charging infrastructure in NSW
We know most electric vehicle (EV) charging will be done at home. However, almost one in 3 drivers across NSW do not have access to off-street parking to charge an EV.  
That's why we're investing $10 million to support local governments and charge point operators (CPOs) to purchase and install EV kerbside chargers across metropolitan NSW.  
The Drive electric NSW EV kerbside charging grants will grow the number of chargers in eligible local government areas (LGA) with the least access to private off-street parking. 
---
Benefits of kerbside charging
residents will be satisfied knowing they have access to essential charging options
progress towards achieving your net zero and sustainability goals
community adoption of EVs will increase
you'll secure your reputation as a leading local government.
access to convenient public charging options  
gain newer, more efficient transportation options 
reduce transport costs 
attract EV drivers to spend time and money at local businesses 
improve local air quality. 
As you work to increase your presence in the NSW network, the kerbside charging grants will help you: 
improve commercial viability of kerbside charging installations through co-funding 
become an industry leader 
gain first mover advantage.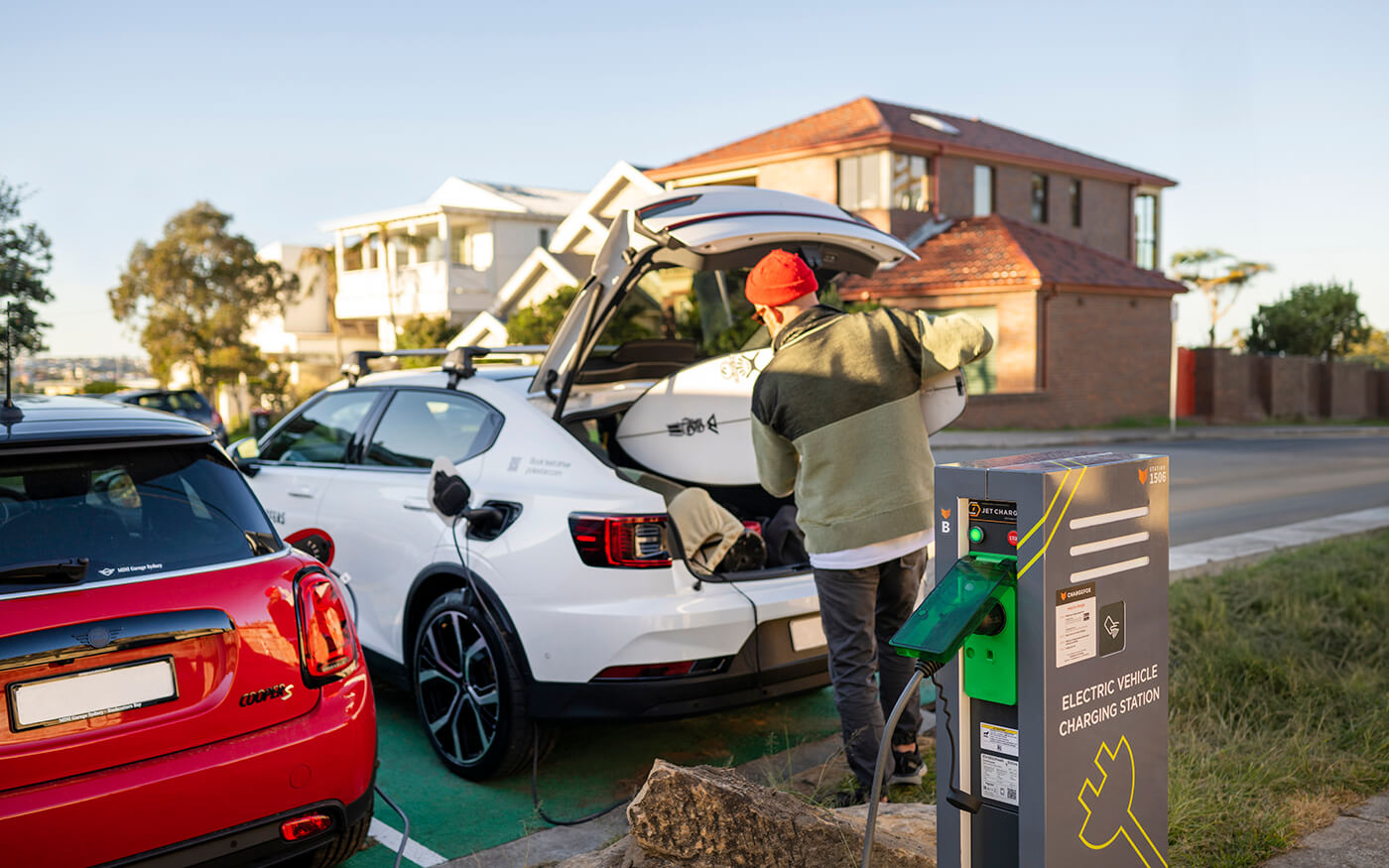 The grant 
1. What's on offer. 
The NSW Government will make $3 million in funding available for round 1 with up to $800,000 per applicant. 
Funding must be no more than 80% of the total installation and equipment cost for each requested EV charger, capped at $10,000 per charge port.  
Where the asset owner pays third-party EV charger software subscription costs, applications may include up to 80% of the cost of a 3-year EV charger software subscription for each charging site.   
2. Who can apply. 
To be eligible for co-funding applicants must be either: 
an entity incorporated under the Corporations Act 2001 (Cth) 
a state-owned corporation or subsidiary of an Australian state or territory owned corporation; or 
a local government (council) as defined under the Local Government Act 1993 No 30. 
Round 1 funding will be open to eligible LGAs listed under Resources for applicants.
3. The guidelines. 
To help you prepare an application make sure you read:  
You can find the full details around the grant and eligibility in the funding guidelines. Please read the guidelines in full to understand all requirements and how they relate to your application.  
4. Results and funding agreement
Successful applicants will be required to execute the funding agreement prior to any co-funding payments being made. 
Resources for applicants
How to select a kerbside charging site
When selecting a suitable kerbside charging site, you will need to consider: 
Location 
Sites should be in locations where nearby houses and apartments have limited access to off-street parking. 
Local driving conditions  
Sites must be on streets with a maximum speed limit of 50 km/hr. 
Proximity to existing street furniture or other structures 
Sites where chargers fit within the streetscape and maintain amenity are preferred. 
Site configuration  
Angled or 90-degree parking is preferred. 
Bike lanes  
Sites must not conflict with existing or proposed bike lanes. 
Approvals  
Applicants should familiarise themselves with the relevant approvals needed prior to installation at the site. These may include: 

approval from local government   
approval from the relevant electricity supply authority, for any EV chargers that interact with their assets including electricity pole mounted, lighting pole mounted, or electricity kiosk EV chargers. 
Selecting between AC or DC charging
Funding is available for AC and low-cost DC chargers. Know the difference.  
AC charging: 
With most charging done overnight in residential areas, slower AC chargers may be more suitable on kerbside locations to accommodate these longer dwell times. AC chargers place less strain on the electrical network and are cheaper to install and operate.  
DC charging: 
In areas closer to commercial centres or business districts there tends to be a mix of dwell times. Between visitors charging for a couple of hours during the day and residents charging overnight, both AC and DC chargers can be suitable.  
Kerbside charging map
This map shows the local government areas (LGAs) eligible for round 1 of the grant. It focuses on the LGAs that have been assessed as having the least access to off-street parking.
Use this map to help you identify the locations with a keen need for kerbside chargers based on population density and dwelling type. This map is only a guide. Applicants must ensure proposed kerbside charging sites meet the program objectives and eligibility requirements.
You can access the interactive map below or in full screen here.
Eligible round 1 local government areas (LGAs)
Planning pathways for kerbside chargers
Procuring EV chargers for councils
The NSW Government's Electric Vehicle Fleet Charging Infrastructure Scheme (scheme) covers the supply and installation of electric vehicle supply equipment (EVSE) and associated goods and services.  
Councils can use or adapt this scheme, and view current suppliers included on the scheme by logging in to Supplier Hub as a buyer.  
The following resources are also provided to assist councils in engaging with CPOs and installers:  
For information or advice, you can contact the scheme manager, NSW Procurement, by emailing [email protected].  
EV kerbside charging grants information session
EV public charging opportunities for local government session
Watch the information session to learn about EV public charging opportunities available to local government.
EV kerbside charging for local government - Supporting document
This document is a step-by-step guide for councils looking to install or support the third party installation of public kerbside chargers. The steps provide an overview of the considerations for kerbside charging during various stages of the project.
State Environment Planning Pathways (SEPP) exemptions for EV Chargers