Like local governments all across NSW, you're implementing initiatives that improve the lives of your community and kick environmental goals. Installing electric vehicle (EV) charging infrastructure advances both these goals; and now there's a grant that helps you install, own, operate and maintain EV kerbside charging infrastructure. 
Sam Kelley from Waverley, Woollahra and Randwick councils explains how they've successfully installed a kerbside charging network.  
Sam Kelley is the Council Regional Environment Program Coordinator working for Waverley, Woollahra and Randwick Councils. These 3 councils have been working together to reduce energy, waste and water emissions across the community. Sam's work includes helping to establish the Eastern Suburbs Public Electric Vehicle Charging Station Network. Since 2019, they have installed 20 kerbside chargers across the 3 local government areas (LGAs). 
As the electricity grid gets greener, the business case for EVs gets better and better, Kelley explains.
"We know transport is currently responsible for about 20% of community emissions, and that percentage is growing very fast, because of the greening of the electricity grid, and because most travel in this area is done in passenger vehicles." 
Kelley says councils can lease spaces to charge point operators (CPOs) or own and operate EV charging stations themselves, or both. "One of the findings from our EV charger project has been that there isn't a future where local government doesn't have any sort of role in EV charging" he says.  
With two-thirds of all the public chargers currently available in the eastern suburbs installed by councils, Kelley believes councils can play an integral role in the roll out of the EV charging network in 5 different ways: 
directly deploying council-owned chargers 
facilitating charger installations on non-council properties, for example schools and car parks 
licensing third party EV charging operators to use council land  
educating and advocating for EVs through webinars and upskilling  
using planning and regulations to set future requirements – such as mandating EV chargers in new developments.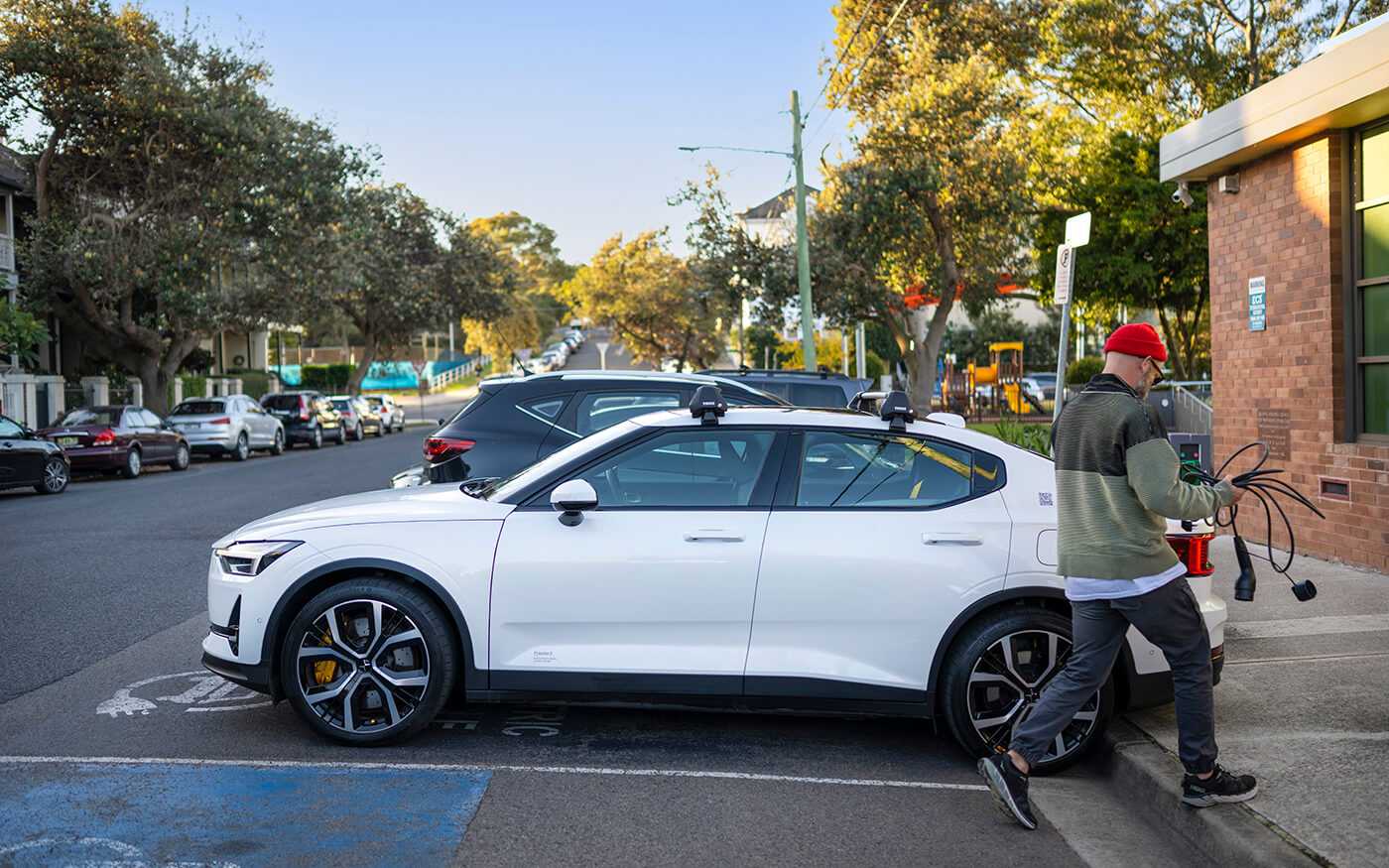 The business case 
Kelley says that, as in most local government areas, each of the 3 councils have set emissions targets, assisted by Resilient Sydney. Resilient Sydney is a collaboration of all 33 Greater Sydney metropolitan councils working together to develop and implement a city-wide resilience strategy.  
"Modelling by Resilient Sydney showed us that, by 2050, the largest single intervention from local governments towards emission reduction outside the power grid, is in facilitating a shift to electric vehicles," Kelley says. 
Installation and costs 
Kelley says each of their 20 pedestal style EV chargers cost around $30,000 to install, excluding the cost of staff time. The EV chargers are operationally cost-neutral, Kelley says. "The chargers are metered, and users pay a fee for charging. This offsets costs that include electricity supply (that combines the energy consumed and a capacity charge), plus annual connection, software subscription and maintenance." 
Kelley says that the group is decided to set 'market' or cost recovery-level fees after considering a range of recommendations, including advice from the Institute of Sustainable Transport.  
"If we try to incentivise use with very low-priced or free EV charging, people who can charge at home might then queue for public charging, making it less accessible to the people who need it," he says.   
Kelley explains that the installation process begins with a detailed site assessment, which considers:  
community consultation, including the number of residents' enquiries they've received 
environmental factors 
whether the site is near amenities, such as beaches, parks, shops, cafes or apartments 
the availability of parking (the council prefers angle parking over parallel parking). 
The next stage involves visiting the location with contractors, and assessing electrical connections, lighting, and the potential impact on other people's accessibility to the road and the footpath.  
The assessment will consider the type of charger that's appropriate, which often depends on what electricity supply and infrastructure is available. 
By July 2023, the councils had installed 20 public kerbside chargers; two are 7 kW AC chargers, fourteen are 22 kW dual-port AC chargers (chargers with two connectors for charging 2 EVs at the same time), and there are four single port 25 kW DC chargers, each in a four-bay arrangement.  
"The AC chargers are bring-your-own cable, so they look similar to a parking meter, which the community are comfortable with."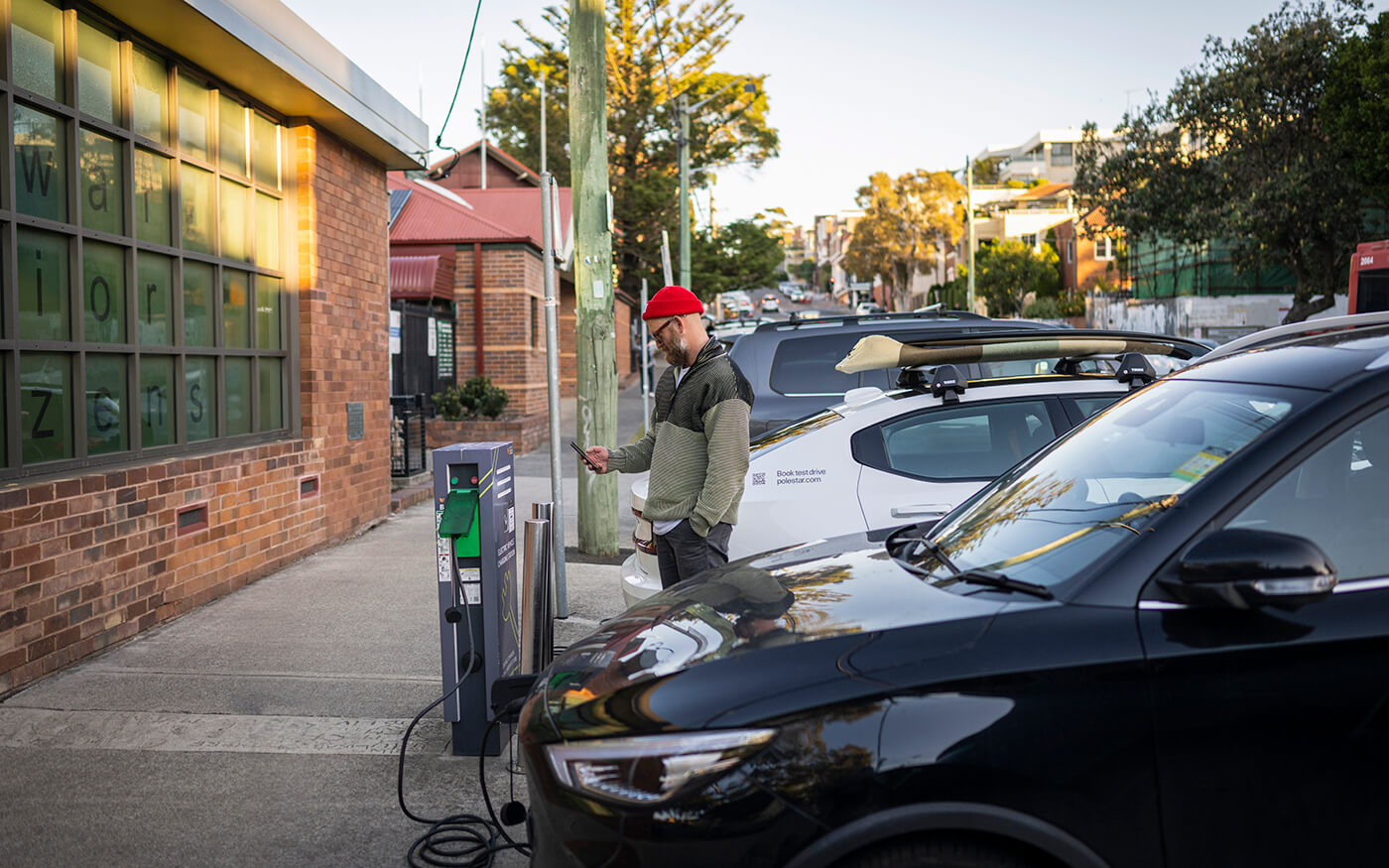 Community feedback 
"The feedback we have is largely positive," says Kelley. The 3-Council team surveyed 1,200 residents in 2021, and 80% of respondents agreed that the increased availability of public chargers would influence whether they decided to purchase an EV. Eighty-six per cent of survey respondents also agreed that council should provide or facilitate more public EV chargers in the community. 
"The survey provided a lot of the basis for us to get going, but the strongest feedback has come from the usage of the charger network," Kelley says, adding that the team has monitored each EV charging session.  
"When we started our network in 2019, we were getting less than 40 charging sessions in a month; now, in July 2023, we are about to hit 1,600 sessions across the network a month, and we have some chargers exceeding 2,000 sessions a year, which is approaching our maximum capacity." 
The sustainability impact of fueling vehicles using these Council kerbside chargers also holds strong appeal. The EV chargers are powered with renewable electricity as part of the councils Power Purchase Agreement.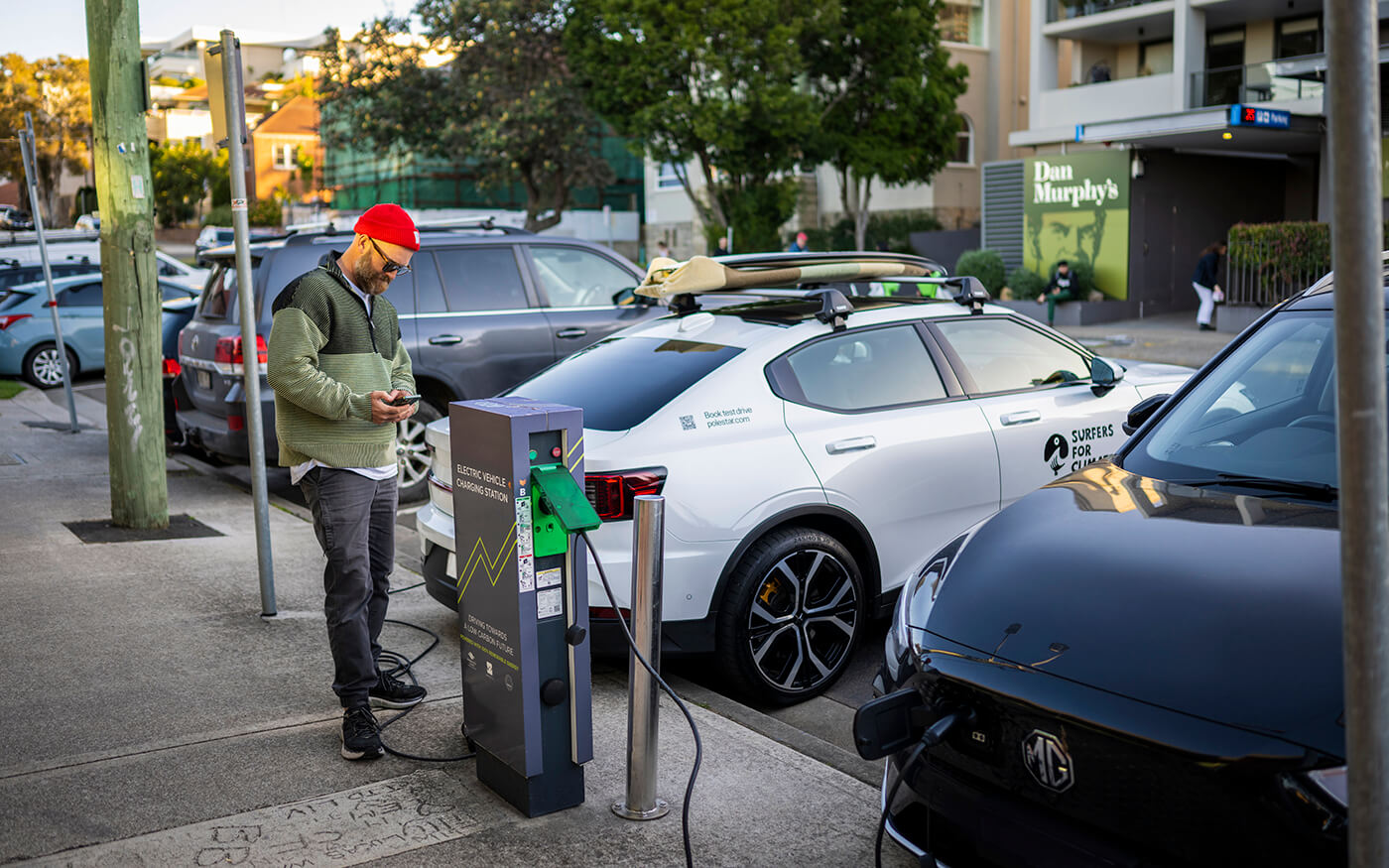 EV user 
Joshua Kirkman drives a Polestar 2 and travels regularly between his home on the Mid-North Coast of NSW and his partner's home in the Eastern Suburbs – where he has no off-street parking. 
"Kerbside charging is so easy to do, you just pull in, plug in, tap on and top up, so using these chargers is a really easy, really great experience. No drama," he says. 
Kirkman is delighted by the expanding options for charging his car in the area. "When you're driving an EV, all you want to see is more chargers appearing." he says.  
He's been involved in lots of interesting conversations with other EV drivers while awaiting his turn at a charger – and says he's discovered a whole spectrum of reasons that underlie EV ownership.  
"For me, it's about climate change, but for plenty of other people, it's just cheaper not to buy petrol, and some people just really like driving these very cool, very cutting-edge cars," he says. 
"Whatever the reason, if you're buying a car, I think you'd be mad to not buy an EV because there's more options to get into the market, the infrastructure is there now, and it's only going to improve." 
About the kerbside charging grants  
In 26 LGAs across NSW, councils and charge point operators are now eligible for co-funding for public EV chargers in high-density areas. The grant helps applicants install, own, operate and maintain EV kerbside charging infrastructure.