Who is eligible for the offset scheme?  
Owners of light vehicles with Gross Vehicle Mass (GVM) of 4.5 tonnes or less that have an engine attached – for example, not a trailer.

Registration must be renewed online through Service NSW website or Service NSW kiosks.
Vehicle registration must meet all eligibility requirements for online, full registration renewal. 
What are the terms and conditions for purchasing offsets as part of my vehicle registration renewal process?
The Terms and Conditions for participating in the Vehicle Emissions Offset Scheme at the time of your registration renewal can be found here.
What can I put in the custom amount field?
You can contribute any amount between AUD $5 and $200. Contributing $80 will offset an average vehicle's annual carbon dioxide emissions in NSW.
Can I skip if I do not wish to offset?
Yes. Offsetting your emissions is voluntary, you can skip the offset contribution and continue with your online registration renewal. 
How do I know how much to offset?
NSW Government have provided a suggested offset amount, based on the average emissions of vehicles currently running on NSW roads. As a guide, contributing $80 will offset an average vehicle's annual carbon emissions in NSW.
How are these options to offset calculated?
NSW Government calculated an average emissions offset figure, to assist NSW vehicle owners in offsetting their emissions. We used data from the Australian Bureau of Statistics (ABS), to calculate the average carbon dioxide (CO2) emissions figure for all light vehicles on New South Wales roads.
Our calculations included data back to 2002 to ensure we factored in older vehicles, with higher emissions rates. We then multiplied the average yearly CO2 total, by the average cost of an Australian Carbon Credit Unit, over the past year. 
Please note the suggested offset figures are estimates only. All carbon credit values including Australian Carbon Credit Units (ACCUs) are subject to market fluctuations, and actual offset amounts are constantly subject to change.
Will the offset be shown on my certificate of registration? 
No, there is no change in the certificate of registration. 
Will the offset show on my receipt?
Yes, the offset will be shown as a separate item on your receipt. 
I am not sure how much I offset last time. Where can I view and confirm this?
This can be viewed on your previous renewal receipt. 
Where will my contribution be used? 
Voluntary contributions are used to purchase carbon credits from verifiable, trackable offset activities that are taking place within Australia, and as a preference within NSW, through our offset provider Corporate Carbon Advisory. These activities are subject to change due to project availability.
What is the offsets contribution process?
To make an offset contribution, simply begin your vehicle registration process as you normally would. You can either do this online at the Service NSW website or at one of the Service NSW Centre kiosks. During the vehicle registration renewal process, you will be offered the opportunity to make a voluntary carbon offset contribution. Click on the link under your registration total, and either select a pre-set contribution amount, or alternatively, should you prefer, you can choose to contribute any amount between $5 and $200.

When you are happy with your contribution amount, select the "Apply" button. Your contribution will then be added to the total amount payable. Once your payment has been completed, you will be taken to a summary page and will have the option to print, download or email your receipt. Your offset contribution will be included on your registration renewal receipt.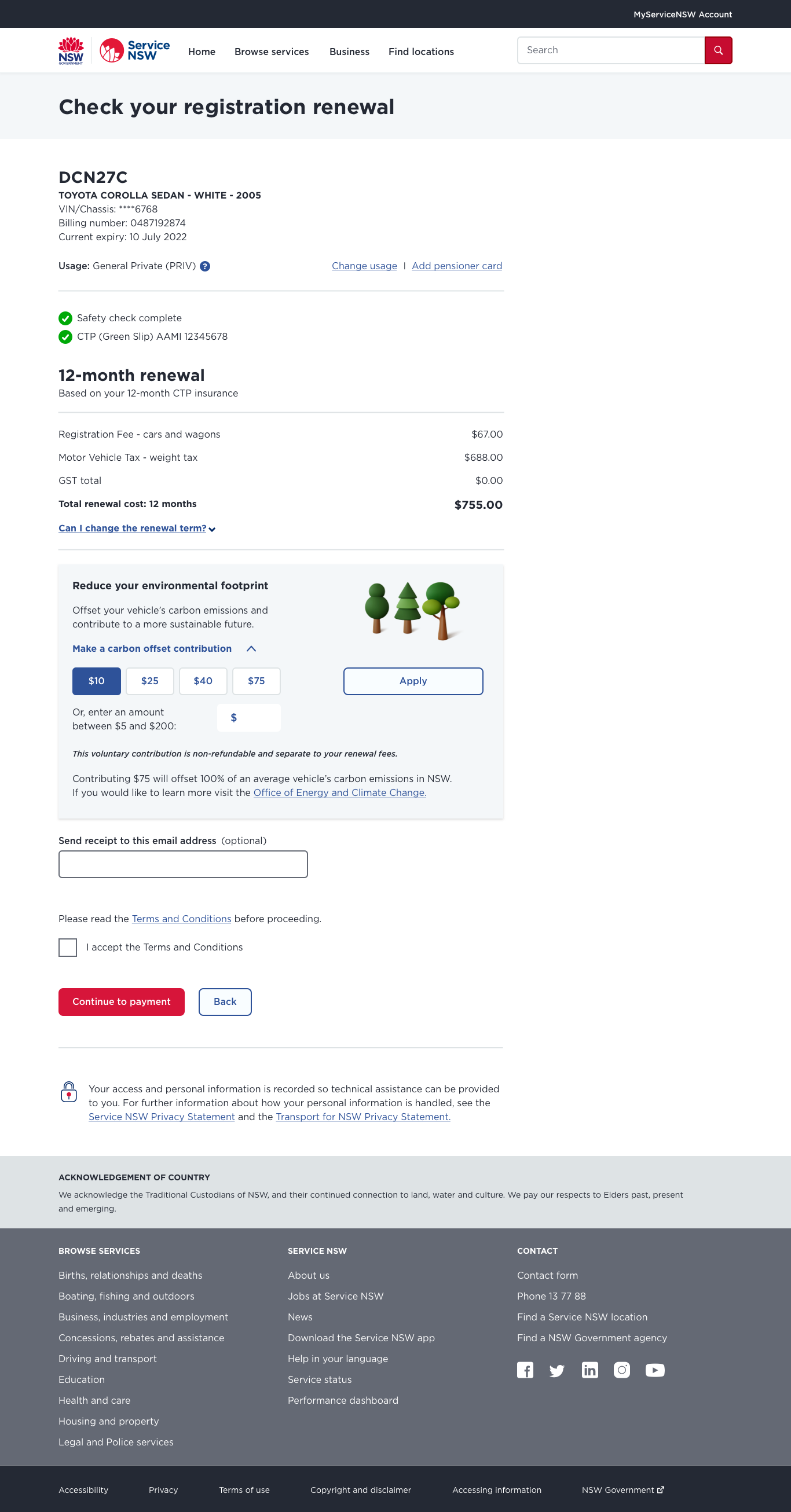 How often are offsets purchased?
Contributions are passed through to our emissions offset provider at regular intervals to ensure emissions offset benefits are maximised, and as per contract conditions.
What is an Australian Carbon Credit Unit (ACCU)?
An Australian Carbon Credit Unit (ACCU) represents one tonne of carbon dioxide equivalent stored or avoided. ACCUs are issued by the Australian Government Clean Energy Regulator (CER) under the Emissions Reduction Fund (ERF) in exchange for reducing the level of greenhouse gases in the atmosphere.
How are offsets in this scheme verified?
The offsets generated through the carbon projects in the Vehicle emissions offset scheme (VEOS) are guaranteed through independent monitoring, verification and reporting processes with the Australian Government's Clean Energy Regulator (CER).
Our partner provider, Corporate Carbon Advisory Pty Ltd, is one of Australia's leading carbon abatement project developers and owners. Together, we are actively committed to ensuring all projects are managed with the highest standards of integrity and executed with the utmost transparency, accountability, and ethical conduct.
I forgot to offset my carbon emissions at the time of my online registration renewal. Can I do it now?
No. However, there are organisations that sell carbon offsets to individuals and small businesses to offset their activities. You can find these through an internet search.
I would like to renew my registration for 6 months. Can I still offset?
Yes, irrespective of the term of renewal, if the registration meets other eligibility criteria, emissions can be offset. 
My vehicle registration has been cancelled. Can I claim back the offset I paid?
The offset payment under this scheme is optional and non-refundable. 
I paid the offset by mistake; can I have the offset refunded?
The offset payment is non-refundable. 
How can I offset when I am renewing over the counter? 
The offset can only be purchased via the Service NSW website or at a Service NSW kiosk. You cannot participate in the offset scheme via an over-the-counter transaction. 
I am renewing my registration using Toll Relief, will it also allow me to contribute to the carbon offset scheme?
Toll relief eligible registrations are not offered a vehicle offset option.