Joe Edginton is an electrician with a mission. He wants to grow his company, Energy Culture, into the top solar panel specialist on Sydney's Northern Beaches. He also wants it to be the most environmentally sustainable. Because for Joe these two objectives are inseparable.
A strong business has a higher purpose and the vision to achieve it, he says: "You have to understand where you're going with your company, rather than just working."
"It's not just about dollars," Joe says, success lies in building a business with a deeper impact: "Is it going to make a difference? Is it going to help in some way towards something else?
"I think our business does, on a few different levels, not just by putting solar in but with the message we have behind our business."
Sustainability is "what sets us apart from other solar panel installers," he says. "We choose products based on how responsible that company is," and "it drives people toward us".
Lots of people, it would seem. Since 2019, Energy Culture's customer base has almost doubled, growing from approximately 850 to over 1400 residential, commercial and public sector clients currently.
Joe says he was inspired to specialise in renewable energy because he wanted to be "part of the solution, rather than the problem".
To that end, Energy Culture recycles up to 70% of all materials it uses or replaces, including fluorescent and halogen lights, cable fittings, metal, cardboard packaging and wooden pallets. Originally, he aimed to recycle everything but found that wasn't possible with some items, particularly cable drums. He's still looking for a solution there but, in the meantime, "we recycle as much as we can," Joe says.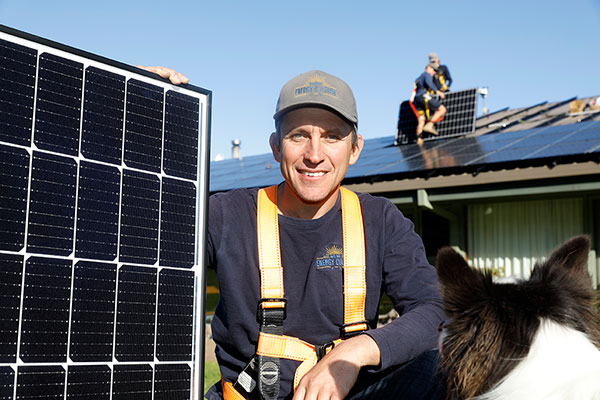 Solar panels are sourced from manufacturers who have a demonstrated commitment to sustainability and corporate social responsibility.
When the panels reach the end of their usable life, Joe helps clients to recycle them too via Auburn-based electronics recycler PV Industries. PV Industries is developing and improving existing recycling processes for solar panels.
For Joe, sustainability is also about supporting the community and other sustainable local businesses.
Energy Culture has forged a partnership with Avalon-based eco-home builder Your Abode to provide solar panels for low-impact, energy-efficient houses. Customer referrals are rewarded with vouchers for Ruby Lane organic cafe in Manly and Hunter Valley organic winemaker, Tamburlaine.
On the philanthropic side, Energy Culture works with reforestation charity One Tree Planted. "For every kilowatt of solar we put in, we plant two trees," Joe says, "hopefully, at some point, we'll be putting enough through, that we'll neutralise our carbon emissions."
And don't be alarmed if you someday glimpse Superman driving an Energy Culture van. That will be Joe participating in Superhero Week to raise money for Manly's children's hospice, Bear Cottage.
"Because of the way we're doing things, we get great feedback and lots of it … across the board from industry professionals, customers and people who want to work with us.
"Vision, mission and values. That's what really defines us and what people understand about us."
What is Zero In?
Zero In is sharing stories and getting to know the human face of sustainability in NSW – the people who are leading us to a sustainable, net zero future.
We all have a role to play in building a thriving, healthy and prosperous future. Together we can support our champions, and learn from their stories of action and change.
Zero In - stay in touch
Great things are happening in NSW, and we can't wait to share them with you. Be part of the Zero In community for a big dose of positivity, encouragement and inspiration.
Thank you for submitting your interest.